Sister Quotes
Quotes about Sisters
Poetry Quotes and Famous Quotes about Sisters
Sister Love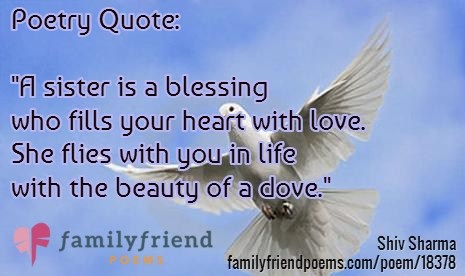 A sister is a blessing,
who fills your heart with love,
She flies with you in life
with the beauty of a dove.
A Sister Is
A sister is someone
who loves you from the heart,
No matter how much you argue
you cannot be drawn apart
Crab Grass of Life
Big sisters are the crab grass in the lawn of life.
Make Her Your Sister
If you are blessed to have a sister through blood, be thankful.
And if you're all alone,
grab the first precious girl in your life,
and make her your sister.
When She Beats You Up
When she can sympathize with you because she's been there, it's comforting.
When she can share your dreams with you, it's encouraging.
When she beats you up because you're a brat, it's learning.
Sister And Friends
As sisters and friends
we're quite a pair
One soul, one mind
is what we share
Two Halves To Make A Whole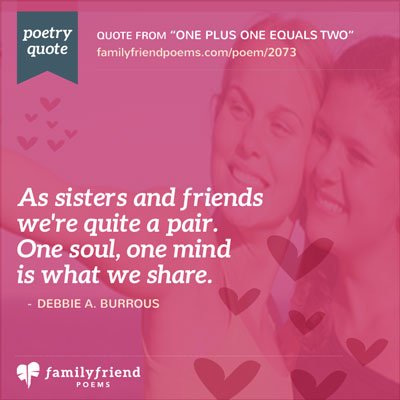 It takes two halves to make a whole
My heart and yours we make one soul
It's Natural
To look into your sisters eyes
and know what she is thinking,
isn't a miracle,
it's natural
Maya Angelou Quote
Sister, open your heart, fling your hopes high, and set your dreams aloft. I am here to hold your hand.