Love Poetry Quotes about Marriage
All love is spiritual. It is in our nature to seek a companion to nurture and be nurtured by. When a man and a woman live together and share intimacy with kindness and respect, this is a place where the divine presence rests. Relationships between people have the potential for the greatest holiness. They also have the potential to manifest great sadness and evil in the world. "Happily ever after" is a myth that does more damage than any other myth about love. To bring your love to that higher spiritual plane takes constant work and maintenance.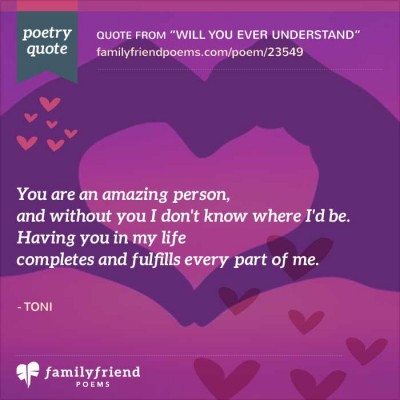 You are an amazing person,
and without you I don't know where I'd be.
Having you in my life
completes and fulfills every part of me.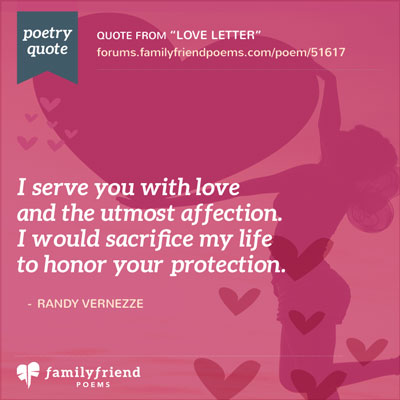 I serve you with love
and the utmost affection.
I would sacrifice my life
to honor your protection.
I don't think you will ever fully comprehend
how you've made my dreams come true,
or how you've opened my heart
to love and the wonders it can do.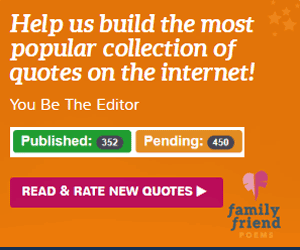 There's nothing I could ever say,
And nothing I could do
To let you know just how much
Love is in my heart for you
You're the light in my tunnel.
You are my pot of gold.
You are the strength that gets me through
when despair has taken hold.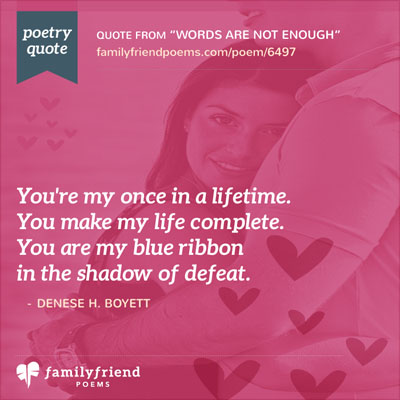 You're my once in a lifetime.
You make my life complete.
You are my blue ribbon
in the shadow of defeat.