Poetry today isn't just about analyzing pieces written hundreds of years ago. It's a way to express your creativity and find relief from stress. It's a way to inspire the world with your words and be encouraged by the writing of other people.
Technology has given us many opportunities to hone our craft and write on the go. There's nothing stopping you from expressing the words that are on your heart.
Are you a teacher looking to help your students engage with poetry? Are you a poet looking for a way to be inspired to write and share your poetry with others? We've discovered some great apps to do those things. We hope these resources will be just what you're looking for as you explore the genre of poetry.
POETRY WRITING APPS
Poetry Magnets


Poetry Magnets allows users to create poetry using individual word tiles - like magnetic fridge poetry. Words can be selected by a predetermined word bank and arranged on a blank section of the screen. The word bank can be arranged alphabetically or randomly, whichever you prefer. There are over 700 words available in the free version, but additional word banks can be purchased.
This app is available for Android.
Haiku Jam


Haiku Jam is a fun take on writing a haiku. The app allows you to write a haiku with other people from around the world. It gives you a haiku that is partially started, and you add the next line in the poem. There is a word limit for each of the lines, and some people adhere to that instead of the correct syllable structure of the haiku. But it's a fun way to spark your creativity.
This app is available for Android.
Haiku - Poems Made Simple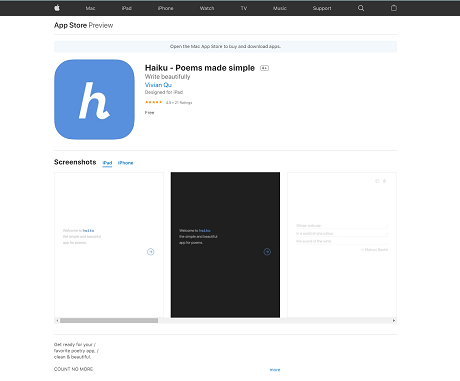 When writing haiku poems, you always have to keep track of the number of syllables in each line. This app keeps track of the syllables for you. You can also switch between a light and dark mode to create your masterpiece even when inspiration strikes at night. If you're not sure what to write about, this app provides you with inspiration from Haiku poets.

This app is available for iOS.


Miraquill


Miraquill is set up like Instagram for poets. Users can write poems that are shared on their feeds and receive likes and comments from other users for their works. You can also read the work of other poets that you follow, and you can participate in creative battles and contests with other people.
This app is available for Android (Miraquill) and iOS (Mirakee).
Lyric Notepad
Lyric Notepad is great for poets and songwriters. The app keeps track of the number of syllables in each line to help you retain the perfect structure of your piece. If you're struggling to find a near or exact rhyme, you can search for both types, along with synonyms and definitions. For songwriters, you can turn text into a song by adding notes and measures. Lyric Notepad also gives you an option to record audio and use a metronome.

This app is available for Android and iOS.




WordPalette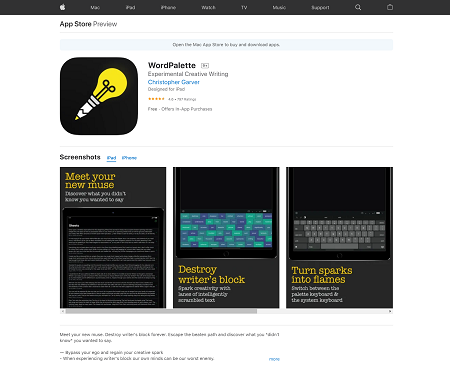 WordPalette provides you with a scrambled palette of words to spark inspiration. If you'd like to add specific phrases to the piece, you can switch to the keyboard mode. There's also an option to add your own section of text that can be turned into a new palette for writing pieces.

This app is available for iOS.
VISUAL POETRY APPS
Sharing poetry on social media continues to gain momentum. An entire subset of poetry has emerged -- Instapoetry. These poems are often short and to the point, and many are featured with images in the background. The following apps can be used to create visuals that are shareable on social media.
TextArt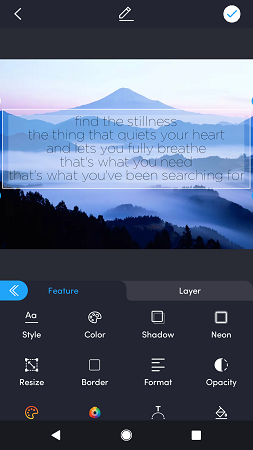 TextArt allows you to place text on top of stock photos or your own. There are also many quotes that could be used on the image or as inspiration for creating your own poem.
This app is available for Android.
KineMaster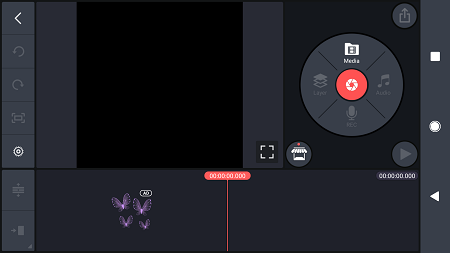 KineMaster is a video editing app that allows poets to create short videos of them reading their poetry to share on social media platforms such as Instagram. It allows you to add text and other elements to your videos as well.
This app is available for Android and iOS.
Canva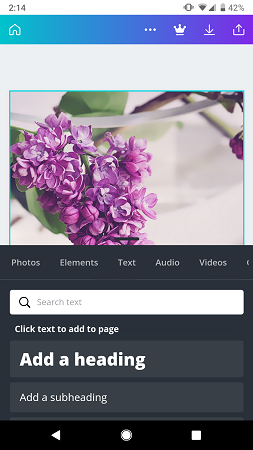 Canva allows you to create images for posts tailored to specific social media platforms. The necessary dimensions are already predetermined. You can choose from predetermined templates with specific fonts or create your own to meet your specific needs. Canva allows you to design more than visuals to post on social media. They also have options for logos, posters, flyers, animated posts, phone wallpapers, and eBook covers.
This app is available for Android and iOS.
WRITING RESOURCES

Poet Assistant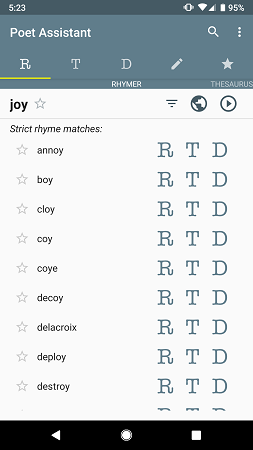 Poet Assistant allows users to find the perfect rhyme for words. The rhymes are arranged alphabetically. If you need a thesaurus or dictionary, they are all just one click away. This app also allows you to type out a poem while keeping track of the number of words. The poem can then be saved or shared.

This app is available for Android and iOS.
Fast Rhymes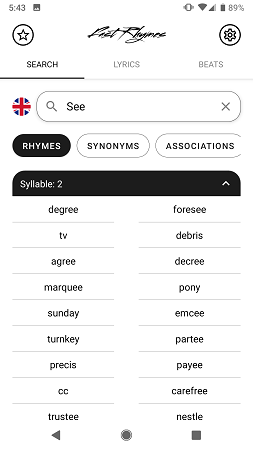 Fast Rhymes provides a list of rhymes and synonyms for words. The results are broken down based on the number of syllables in each word. It also allows you to write lyrics or poems and choose from premade beats to go along with the lyrics. With the free version, you can play the beats 5 times per day. There is an option to pay for upgrades that include unlimited beat plays, looping beats, word definitions, more results for rhymes, and a syllable counter.

This app is available for Android and iOS.
Rhymer's Block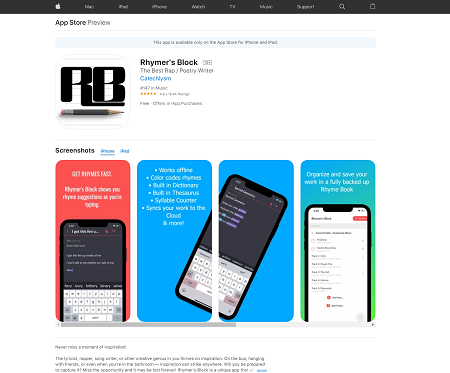 If you're looking for the perfect rhyme, Rhymer's Block helps you add the right word to your poem. It color-codes the rhymes in a piece you're working on and provides rhyme suggestions as you type. The recommendations are arranged by words that are used most frequently. The results include both perfect rhymes and words that sound good together.
This app is available for iOS.
POETRY READING APPS
Family Friend Poems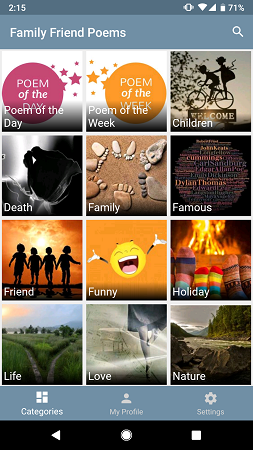 The Family Friend Poems app allows readers to browse poems based on various categories and subcategories - from poems about life and love to poems about death and friendship. There are also hundreds of famous poems to read. Users can select to receive the Poem of the Day and/or the Poem of the Week, which are all hand-picked favorite poems. You can receive the Poem of the Day each day of the week or only for select categories such as love and family. If you have written your own poetry, there's an option to submit your work to be considered for publication as well.
This app is available for Android.
Poetry Foundation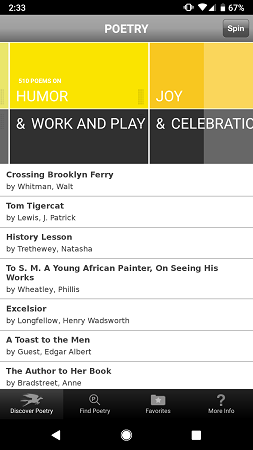 The Poetry Foundation app greets users with a spinner that provides poem results on specific topics. It's a great way to discover poems you might not search for on your own. There's an option to browse by mood, subject, poet, and audio. Some of the mood examples are optimism, anger, grief, humor, joy, and disappointment, giving readers results that will match their current mood (or the mood they'd like to experience). When you find a poem you like, it's easy to see all poems written by that poet or read a poet's biography.
This app is available for Android.


Poem Hunter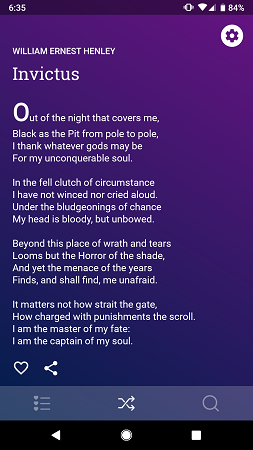 Poem Hunter allows readers to enjoy poems written by both well-known famous poets and contemporary poets who are not yet well-known. Upon opening the app, users are greeted with one poem. You can use the search feature or continue with the random selection feature. The search feature organizes the results into two categories: poems or poets. The layout is very simple and sleek, only showing the title, poem, and the poet's name, making it very easy to use and aesthetically pleasing. If you would like to read more poems by that specific author, simply click on the poet's name, and it will take you to a list of poems written by that person.
This app is available for Android and iOS.
What are your favorite apps to use for reading or writing poetry?