Funny Poems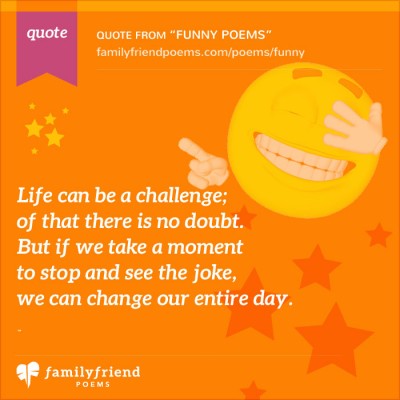 Smile with Poetry
If we cannot laugh at ourselves, life will become a dull and stifling experience. Life can be a challenge; of that there is no doubt. But if we take a moment to stop and see the joke, we can change our entire day. To those that take life seriously, we may see humor as an obstacle in our paths. The truth is that jokes are funny because they contain a grain of truth about life that would not be able to be shown through any other medium. A funny joke or poem has the power to point out subtle ironies of life that I might get shot in the head for if I were to say them straight out. Humor has the capacity to point absurdities about the way we live our lives in a non-threatening way.
10 Best Funny Poems
Featured Subcategories

Those who have studied poetry know that rhyming is only one style of writing a poem. The real criterion that defines a poem is whether I am writing something that could not be conveyed in prose. The strict grammatical rules that define prose have no place for a real poem's sentiment. At the same time a poem doesn't need to convey a profound message in order to qualify. A poem that is cute may very easily fit the this criterion as well.

There is a line from a country song that goes, "sometimes life's greatest gifts are unanswered prayers". It describes a man who sees his high school sweetheart at a high school reunion. He realizes how wrong they would have been for each other and how blessed he is to have the partner that he has. Many of us have similar stories. Many times we are lucky enough to end up not with the person that we thought was our soul mate but the person who is really meant for us.

The short poem is more challenging to write than a longer poem. It seeks to make every word count and mean exactly what is intended. A short poem has the added benefit of getting the message of poem through to the reader in a succinct way. There are many traditional styles of humorous short poems. The challenge is in getting your words into the proper number of syllables in each stanza. These poems have a technical element to them that contrast with the free flowing poems that are more common today.