Spiritual Poems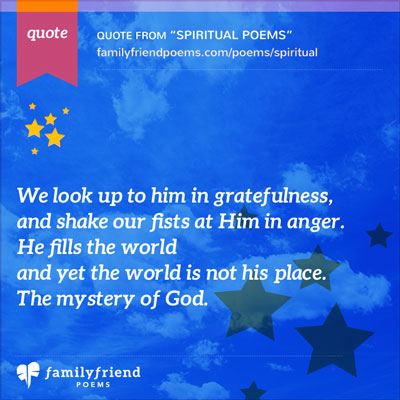 Spiritual Poems about Life and After Death
God is truly man's best friend on this earth. No one loves like He. No one cares like He. He is patient and true and waits with open arms for us to return to Him in truth. God is also the greatest mystery. We believe that he is all powerful and capable of doing anything and yet there is suffering in the world. On the other hand there is an inherent goodness in mankind which seems to echo God's goodness. We look up to him in gratefulness, and shake our fists at Him in anger. He fills the world and yet the world is not his place. The mystery of God.
10 Best Spiritual Poems
Featured Subcategories

Prayer is communication between man and God. A family that incorporates prayer into their lifestyle are giving the ultimate gift to themselves. Life is difficult and suffering is an inevitable part of life. A family that prays knows that they can turn to God and be accepted and loved for who they are. Every human being needs to turn to God with his or her triumphs and failures and know that life is meaningful. A family that prays together has the ultimate support system.

The realm of spirituality is mystical and mysterious. When we look at the world with an attitude of wonder and awe, we become aware that the world is filled with spiritual life. Part of spirituality is being willing to admit that something is beyond your comprehension. Science has its place in understanding the world but it will never have all the answers. When we look at the universe and into our own hearts and see that which we don't understand, we know that we have touched that which is unknowable and holy.

Death is life's greatest mystery. What happens when our soul leaves our body is the most important question in the world. The answer will affect how we live our lives. The world is plagued with the question of what comes after this. When we are faced with the death of a friend or relative, we are stunned with grief. We don't understand, he was here and now he's not, where did he go? Where does the spirit go? The truth is that our soul knows of its eternal nature. If we ask our souls this question in a real way, we will find that we know that we are made from the stuff of eternity.