About Poetry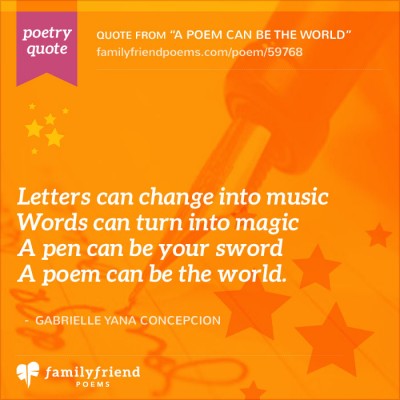 Poetry is a staple in English classes, but many people are left with questions about understanding poems and writing them. With so much time being spent teaching and studying this form, we have provided resources for students and teachers to navigate this sometimes mysterious genre and to celebrate it in April during National Poetry Month. You will find articles on poetic techniques, poems hand selected to help students better grasp those techniques, and ways to celebrate poetry during National Poetry Month.
10 Best About Poetry
Featured Subcategories

Poetry takes words, memories, feelings and perspectives and transforms them into an art form. If you have an interest in writing poetry, but aren't sure where to start, remember that much can be learned from reading poetry written by famous poets. Besides reading as much poetry as possible, there are also quite a few poetic techniques you should know to write poems that allow you to express yourself in an artful way. Studying said techniques will help you to make the leap between poetry student and poet.
One of our goals is to help students with school assignments. Are you looking for poems with a certain technique, or do you want to learn about techniques such as using rhyming, metaphors, and personification? You'll find a
Homework Help Center
that showcases poetic techniques used in these poems and provides links to
articles
further explaining those techniques. Are you looking for inspiration and a format to write your own poetry? Check out the
Try It Yourself
articles, complete with PDFs to print and begin using for your own writing.

Poetry has been around a long time and while the "Death of Poetry" is a phrase that is too common. We believe that poetry is filling the same needs that people have used poetry to fill for thousands of years. The poet is someone unafraid of facing the depth of their emotions and is willing to put them on paper for the public to view. Not everyone knows how to be so brave, but everyone can learn to do so. We all can learn to write poetry and become a better person through it. Are you looking to meet your inner self and your inner poet? We hope we can help you find the poet in you!