Family Poems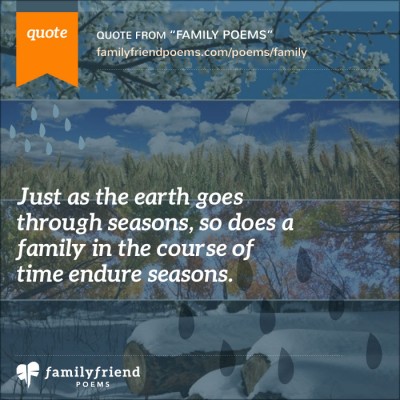 Poems for Family
Just as the earth goes through seasons, so does a family in the course of time endure seasons. Falling in love, marriage and the birth of a children are times of renewal like Spring. Long pleasant periods of calm are like the feeling of an endless Summer. As we and our children grow older, our leaves start to change. We start to experience Autumn. This may seem like dying but it is only signs of a new phase of life. Crises and hardship are times for the family to stay close together, help each other out and endure the frigid winds of change. This period is akin to Winter. Life is full of seasons and changes which are best experienced with the support of friends and family.
10 Best Family Poems
Featured Subcategories
The celebration of a person's birthday is a life affirming event. When you celebrate your birthday you are making a statement that your life is significant and meaningful. You are saying, my life is worth living and therefore I am celebrating that I am alive for another year. It is a time to get together with friends and family and celebrate the life that you are living. Birthdays may also be a time of melancholy reflection if we are not happy with our current station in life. For this reason it is good to have family and friends close to you to let you know how special you are.

An anniversary is a time of reflection of the event that was experienced. It is healthy and natural to remember an event on the anniversary of the day it occurred. Moments of joy should be celebrated with joy. The same goes for sad occasions. These should not be ignored. Anniversaries of weddings and engagements are times to renew the love and affection that was felt during those times. They are an opportunity to bring the marriage to a higher level. Anniversaries are a function of the cyclical nature of the universe. The constellations become aligned in the way they were during that special occasion.

Having a sister in your life can either be a wonderful or terrible experience, depending on your relationship. If you have an older sister and you are a girl, she can often show you how to navigate the way through some of the more difficult areas of growing up. This is also true if you are a boy. Your older sister can help explain to you how to interact with the opposite sex. Younger sisters are a joy as well. They often worship their older siblings and it can be a nice experience to be admired. Relationships with sisters, like any relationship depend on the people involved.