Death Poems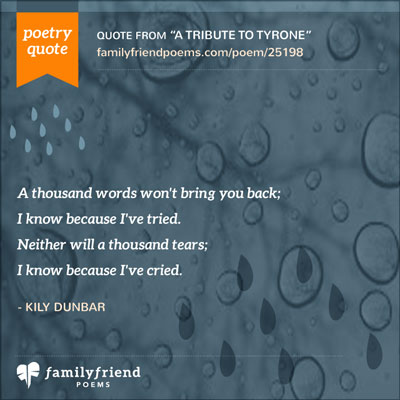 READ. CRY. HEAL
Death Poems contains many of our most read and commented on poems. Great suffering, such as when a loved one dies, drives us to find release and comfort through connecting with others who have experienced what we are going through. Just reading the stories and poems shared by people crazed by a similar grief to ours, can somehow actualize our feelings and bring solace to our grieving souls. It is our sincere hope that you find this comfort which you need.
10 Best Death Poems
Featured Subcategories

The act of creating a poem is a memorial for one who has passed away. It is an act of spirituality. A memorial tells the world that while our loved one may be gone his or her spirit lives on. This individual will forever be tied together in the circle of life. Our Loved One's life mattered and continues to matter. Their acts of goodness and courage will never be forgotten. A memorial is a way to remember a loved one forever.

One does not leave a funeral in the same way that he has come. He cannot help but have death on his mind. He cannot help but be aware that such is the end of all life. He may look at himself and have a new awareness that his body will not last forever. These thoughts are ones that humans must face and find a way to deal with. Some believe that the death is only the beginning of the next great mystery and the soul is eternal. Others take a practical view that death is all there is. One leaves a funeral with thoughts of life and its fragility on his mind.

The ability to feel sympathy for each other is one of the most beautiful traits that we possess as humans. The human condition is one of fundamental aloneness. When we reach out and share our sympathies with another human being in pain, we are offering a great kindness to the individual in pain. He knows that he is fundamentally alone but at least he knows that others care and are trying to understand.