Valentine's Day Poems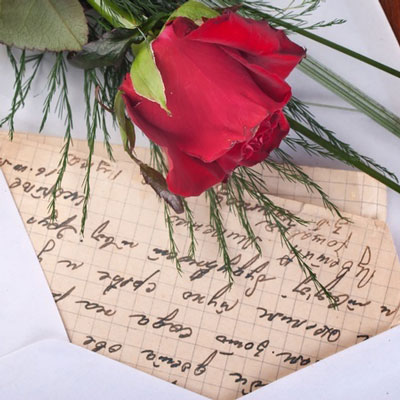 Love Poems For Valentine's Day
Romance is in the air. Chocolate hearts, roses, and greeting cards are everywhere. If you really want to be romantic, ignore all of these commercial products this Valentine's Day. Buying a card or some candy from the store only shows that you're doing what's expected. Going the extra mile to be creative shows that you really care. If you want to really be romantic take the time to find out what is special and meaningful to her. That gesture will be worth more than the biggest chocolate heart.
10 Most Popular Valentine's Day Poems
Featured Categories

It's not the length of the poem that matters, rather it is the thought that goes into it. A short poem to your Valentine can easily be more powerful than a long one. It is the content that matters. In fact, if you're taking the time to write something of your own, you're probably on the right track. Don't go for the "roses are red, violets are blue" variety of poems. Don't give her a card with a prewritten poem in it. That won't get you anywhere. True romance are words from your heart to hers.
Valentine's Day is the Holiday of Romance. Romance is love in its active state, ignited and inspired. Valentine's Day may feel like a holiday forced on us by the Greeting Card, Jewelry and Floral industries, but the truth is that we have accepted it because we recognize and value its purpose. Love that never inspires romance is stagnant and stale. Valentine's Day is an opportunity to ignite our existing relationship with romance, and love with an added dose of romance will result in a stronger, longer lasting and far more satisfying relationship.

Guys, if you're looking for inspiration, think about this. Where would you be without your girlfriend? Have you ever tried sharing feelings with your buddies? They just don't get it, and they would laugh at you anyway. Be thankful that you have someone that you can be vulnerable with. Having a woman in your life is the ultimate gift. Your bodies fit together because your souls fit together and you're meant to be together. Say thank you to your girlfriend. Tell her how grateful you are that she is in your life.

If you're getting together with your boyfriend on Valentine's Day, you may be asking yourself if your boyfriend cares for you as much as you care for him. Well here's something you should know about guys. They're not the best at sharing their feelings. They may need a little poking and prodding. Don't look at this as a sign that they don't care. They need your help. Show him how to be a good lover. Be clear about what you want, he's probably more scared than you.