Holiday Poems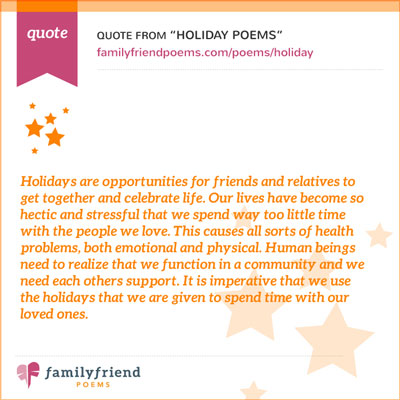 Poems for Holidays
Holidays are opportunities for friends and relatives to get together and celebrate life. Our lives have become so hectic and stressful that we spend way too little time with the people we love. This causes all sorts of health problems, both emotional and physical. Human beings need to realize that we function in a community and we need each other's support. It is imperative that we use the holidays that we are given to spend time with our loved ones.
10 Best Holiday Poems
Featured Subcategories

Father's Day is not as respected and popularly observed as Mother's Day. There is a simple reason for this. Although almost everyone has difficult issues with their mothers, there is no doubt as to their mother's love. The same is not true for fathers. Because men have a more difficult time expressing their feelings to their children, many children go through life with the mistaken notion that their fathers don't love them. This is a tragedy because fathers generally love their children dearly and often work long hours so that they can raise their children in comfort.

Mother's Day comes once a year. We buy our mothers flowers and a card, and even include a poem. But, we must know that we have not fulfilled our obligation for the rest of the year. If we would comprehended a small part of what our mothers did for us as children. How they would quite literally die for us if needed. We would realize that one day is not enough. Mothers Day should be a time to remind us not to neglect our duties as sons and daughters. The mother child relationship is a sacred bond, let us honor our mothers on this special day and every day.

In today's world we are inundated with images of Christmas from the media. We are told that it is all about buying expensive gifts for each other. In today's challenging economic times it is a tragedy that parents spend way more than they can afford to try to please their children. The sad truth is that, "money can't buy you love". A holiday is about the time spent together with loved ones. It is about gifts that come from the heart, and it is the about the thousands of years of tradition that mark the holiday season.