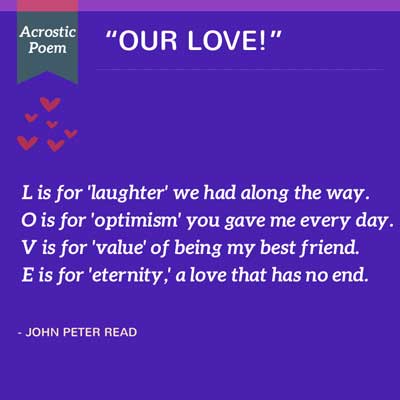 What is an acrostic poem?
An acrostic poem is a fun poetry form that can be written about any topic.
It's a poem where letters within the lines of that poem (at the beginning, middle, or end) spell out a specific word. That word is reflective of the topic or theme of the poem.
What are the rules?
The one rule of an acrostic poem is that a word must be spelled among the beginning, middle, or ending letters of a line.
An acrostic poem does not have to rhyme, but it can.
It also doesn't have to follow a specific syllable count.
How do I write an acrostic poem?
Think of the word you want your poem to be about (family, hope, inspiration, birthday, etc.).
Write the word vertically. Tip: Use paper instead of a computer. When writing poetry, it's easier to manipulate words and phrases on paper by jotting down thoughts or scribbling out words.
Write down some words or phrases you think of when it comes to that topic (ex: FAMILY – fun, love, siblings, mom, dad, bond, care, memories, bickering, time together, play, vacation, etc.).
If the words you think of start with one of the beginning letters of a line, go ahead and fill them in. From there, work on fitting your other ideas into the lines.
When writing acrostic poems, make sure the letters that spell out the word are clearly marked by using capitals, quotations, or bold print.
For young children or beginning poets, a simple way to start is by associating only one word to each of the letters in the poem:

Fun
And
Memories
I
Love
You

Play around with the language to add more details to enhance the poem. Some poems are written in a way that the featured word is subtle, while others make it more pronounced by saying "A is for…" Stretch yourself and write in a variety of ways. That's the best way we learn and hone your skill.
The 3 different types of acrostic poems
The first letter of each line
Using letters in the middle of the line
The last letter of each line
The most popular version is when a word is spelled using the first letter of each line (as seen above). Other options provide more of a challenge to experienced poets.
One option is to have a word hidden in the middle of the poem.
Poetry makes me haPpy
And brings jOy to my soul.
I can see mysElf in the words,
And it makes Me feel whole.
Acrostic poem examples creating words in the middle of the lines:
A third option is to write a poem that has a word spelled vertically using the last letters of each line. This can be the trickiest variety, but it's a great puzzle for those who want a challenge.
When I'm feeling down and need a pick-me-uP
No other thing than write will dO.
It releases my emotions and makes me feel like mE.
There's nothing like writing to make me calM.
Acrostic poem example creating a word from the end of the lines:
Acrostic Poem Examples for Kids:
Funny times
And sad times
Mixed together.
I will always
Love
You.
More Acrostic Poems For Children
Examples of Obvious Acrostic Poems:
F is for Father who protects us.
A is for Always loving each other.
M is for Mom who takes care of us.
I is for Instigating pranks on siblings.
L is for Listening to each other.
Y is for Yesterdays and tomorrows together.
Examples of Subtle Acrostic Poems:
Family can be flesh and blood
And friends who would never leave you.
My family is made up of both, and
I'll stand by them and protect them with everything I have,
Learning to navigate life together through
Yesterday's memories and tomorrow's adventures.
As you can see, there are many ways to craft acrostic poems. This form can be tailored to people of all skill levels, and it's a great way to use language to convey a particular theme.
Acrostic Poetry Collections
More Acrostic Poems. Explore these Collections: