Peaches Haiku
Featured Shared Story
This haiku just makes me want to close my eyes and picture in my head a beautiful flower garden, swaying in the cool breeze on a hot summer day. It also gives me the chills! Jayjay
The Pink Summer Sphere
Published by Family Friend Poems July 2016 with permission of the Author.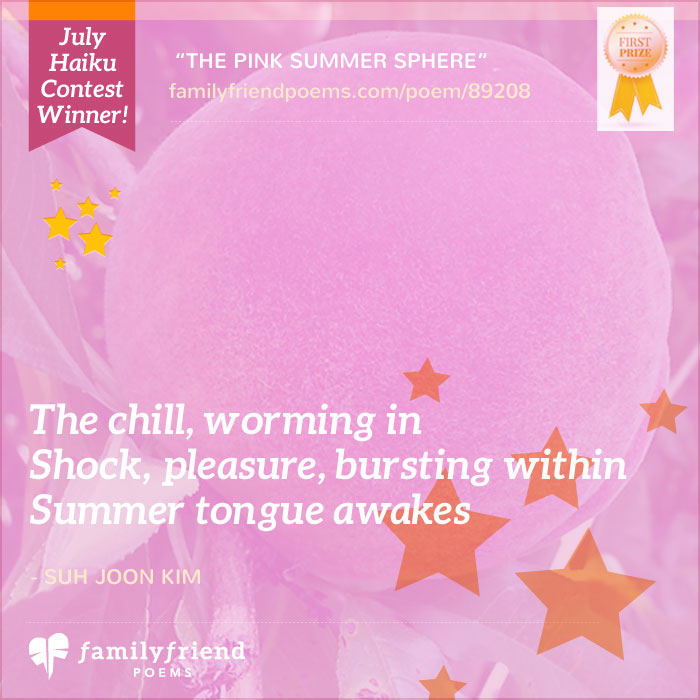 The chill, worming in
Shock, pleasure, bursting within
Summer tongue awakes
Winning Haiku for our July 2016 Haiku Contest - Favorite Summer Food
Interview with Suh Joon (Alex) Kim, the winner of our July 2016 Haiku Contest
How long have you been writing poetry, and what got you started?
I got serious about writing poetry about 2 years ago, but I was interested in poetry ever since I was in 3rd grade. I couldn't express my thoughts well back then, so my teacher introduced me to poetry. Ever since, it has been a medium to express my thoughts.
How have the rapid changes in technology and communication affected how you engage with poetry?
The rapid changes technology and communication allowed me to engage more openly with poetry. Since the invention of the internet and the creation of email, I could access lots of interesting poems that people posted on the internet, I could ask people about how they tried to improve their poetry, and most importantly, I could post my own poems for the general public to see. If the rapid changes of technology and communication didn't happen, I don't think that I would have the confidence to make my poems public.
Share with us a fun or interesting fact about yourself.
One interesting fact about myself would be that I love taking pictures, reading, and writing stories. Despite my interests in creative writing, another fact about myself would be that I'm absolutely horrible with grammar.
Stories 1
Shares 171
Fav

orited

4
Votes

149

Rating

4.15