Poets

Shelly Bottoms Domenici
Shelly Bottoms Domenici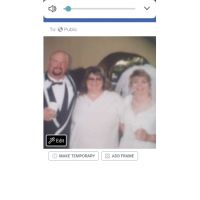 About Shelly Bottoms Domenici
I have been writing poems for years. I haven't written one for about 4 years. When my youngest brother passed away suddenly in August this year took me and my family for a loop. So a couple day after his death I just couldn't sleep so I got out my notebook and pen and began writhing when done I had wrote the poem. I read it at his service .He was 47 years old and on October 24th he would have turmed 48 and I will be 53. He was born on my 5th birthday we use to be like twins but 5 years apart. If I would cut a finger he would cut the same one as well we felt each other's pain at times. We were very close ( even tho he was my half brother) .i have 4 grand babies 2 boys 2 girls in which I adore. I love my family with my whole heart and more. I would move mountains for family friends and anyone else that needs help. In June I lost my dad July my uncle(my dad's brother) then in August my baby brother. It's been a very trying and rough road but with God by my side I will prevail.
visit Website

on Facebook

on Twitter

on Instagram
Poems by Shelly Bottoms Domenici

In Loving Memory Of My Mama

You had a
heart of gold
and a
beautiful soul.

Stories 0
Shares 24
Fav

orited

0
Votes 16
Rating 4.38

Published: October 5, 2018

You left without
Warning.
Gone so fast.
Now all we have

Stories 2
Shares 2771
Fav

orited

12
Votes 440
Rating 4.57

Featured Shared Story

This poem hits home. My loss was my older brothers. Years have passed, but still that pain remains. Memories of them creep in every day, but still it hurts to be reminded of the loss my...
Collections by Shelly Bottoms Domenici
For My Brother
Public

Published on 10/05/18