Derek Walcott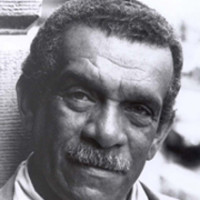 About Derek Walcott
Derek Walcott was born a twin on January 23, 1930 in Saint Lucia. While his father died when he was very young, his mother, a teacher, instilled a love of literacy in him, his brother, and sister. She recited poems to him at home, and she loved the arts. His father had also been a lover of the arts, having been a painter and poet.
Much of Walcott's inspiration comes from the history of St. Lucia, both colonialism and post-colonialism. He also infiltrates the theme of spirituality in his poems. His first poem was published in a St. Lucian newspaper, The Voice of St. Lucia, when he was fourteen. A few years later, Walcott borrowed money from his mother to self-publish his first collection of poems. By age nineteen, Walcott self-published two books of poems.
After studying the University of the West Indies in Jamaica, Walcott moved to Trinidad in 1953 where he became a critic, teacher, and journalist. He then taught literature and writing at Boston University. While there, he founded Boston's Playwrights' Theatre in 1981. In 2010 he took a job at the University of Essex as a professor of poetry.
In 1992 Walcott became the first Caribbean writer to receive the Nobel Prize in Literature.
Walcott has become known as a poet and playwright, one with an extensive list of published works. He has also received various literary awards such as:
Obie Award 1971
MacArthur Foundation "genius" award
Royal Society of Literature Award
Queen's Medal for Poetry
2011 T.S. Eliot Prize
Poems by Derek Walcott

The time will come
when, with elation,
you will greet yourself arriving
at your own door, in your own mirror,

Stories 1
Shares 3228
Fav

orited

41
Votes 315
Rating 4.46

Featured Shared Story

My husband died 10 years ago. He was the love of my life, my soul-mate, my best friend. I have not known how to 'adjust' to him being gone until I read this poem, "Love After Love." Everyone...