William Blake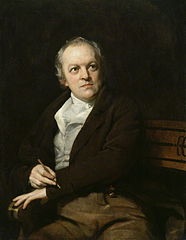 About William Blake
William Blake was born in London, England on November 28, 1757. He was the third of seven children, but two of his siblings died in infancy.
While he did not have formal education, his mother taught him at home. Both parents encouraged the artistic gifts they saw in their son, so they enrolled him in drawing classes at the age of ten. He began writing poetry two years later. The drawing school became too expensive for the family, so at the age of fourteen, he apprenticed with James Basire as an engraver. His apprenticeship ended seven years later, at the age of 21.
In 1778, Blake studied at the Royal Academy in Old Somerset House. He did not need to pay to attend, but he did have to purchase his own materials.
Blake married Catherine Boucher on August 18, 1782. She was illiterate, and signed their marriage certificate with an "X". Blake taught her how to read and write. He also taught her how to engrave, which became extremely helpful to him.
His first collection of poems, Poetical Sketches, was published in 1783. The following year he and a friend opened a printing shop, but it did not bring about the success he hoped. His most popular collection of poetry is considered Songs of Innocence, which was published in 1789.
The end of Blake's life was spent in poverty. William Blake passed away August 12, 1827. Earlier that day, he drew a portrait of his wife.
Interesting Facts about William Blake
He taught himself Greek, Latin, Hebrew, and Italian because he wanted to read classical pieces in their original languages.
Blake opposed the English monarch. The French and American Revolutions influenced his writing.
In June 1780, William Blake was walking when he got swept up by a mob that attacked a prison. This incident helped to create the first police force.
Blake had to go to trial because of a false testimony a soldier made against him, but he was eventually acquitted of the charges. He used the poem "Jerusalem" to get back at that soldier.
Blake's grave is not marked.
References