Clare Harner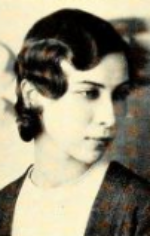 About Clare Harner
Clare Harner was born October 1, 1909 in Green, Kansas to Martha and R. C. Harner. Clare grew up in Howard, Kansas where Dr. Harner settled with wife and kids in 1912. She had two older brothers named Collis and Olin.
Clare developed an early interest in music and poetry. In High School a poem by Clare Harner won first prize at the "Elk County First Annual Track and Literary Meet". After graduating from Howard High School, Clare Harner attended the College of Emporia, where she headed the literary club before transferring to Kansas State University. At Kansas State, Clare Harner wrote articles for student publications. Clare graduated from Kansas State in 1931 with a degree in Industrial Journalism.
After graduation Clare Harner lived and worked in Topeka, Kansas as a secretary while writing poetry and submitting verses to small poetry magazines like Expression and The Gypsy.
In 1932, Clare's brother, died at only 31 years old.
In December 1934, Clare Harner's poem "Immortality" (now well known as "Do Not Stand At My Grave And Weep") was published in The Gypsy all poetry magazine. "Immortality" was reprinted in the Kansas City Times on February 8, 1935. The Gypsy published one other poem of hers, "Where You Go" in 1936.
In 1938, three poems by Clare Harner were published in Important American Poets, "Scarecrow"; "Puritan" and "She Walked with Three." In 1939, Clare Harner's poem, "With No Ring" was published in Eros, an anthology of love poems. In 1940 Kansas Magazine published two poems by Clare Harner: "War Chant" and "Cry from the Dust Bowl".
Clare Harner married Sergeant David Haines Lyon, USMC in 1943. Clare and David Lyon had two children.
Clare Harner Lyon died in San Francisco on January 27, 1977 at age 67.
References
Poems by Clare Harner

Famous Poem

Do not stand
By my grave, and weep.
I am not there,
I do not sleep-

More...

Stories 64
Shares 152564
Fav

orited

481
Votes 16779
Rating 4.58

Featured Shared Story

It's what we want to believe. We don't cry because our loved one is dead, we cry because we won't ever see or talk to them again and we will miss them. We are crying for ourselves. Someone...