W. H. Davies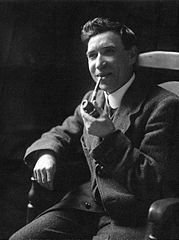 About W. H. Davies
William Henry Davies or W. H. Davies (3 July 1871 – 26 September 1940) was a Welsh poet and writer. Davies spent a significant part of his life as a tramp or hobo, in the United Kingdom and United States, but became one of the most popular poets of his time. The principal themes in his work are observations about life's hardships, the ways in which the human condition is reflected in nature, his own tramping adventures and the various characters he met. Davies is usually considered one of the Georgian Poets, although much of his work is atypical of the style and themes adopted by others of the genre.
Poems by W. H. Davies

I hear leaves drinking rain;
I hear rich leaves on top
Giving the poor beneath
Drop after drop;

More...

Stories 0
Shares 38
Fav

orited

0
Votes 7
Rating 5.00

What is this life if, full of care,
We have no time to stand and stare

No time to stand beneath the boughs,

More...

Stories 1
Shares 1337
Fav

orited

18
Votes 175
Rating 4.49

Featured Shared Story

This is a wonderful poem and has always been one of my favourites. At this time of lockdown restrictions and protecting ourselves, we have that time to stop and look at the world - to enjoy...