Sad Love Poems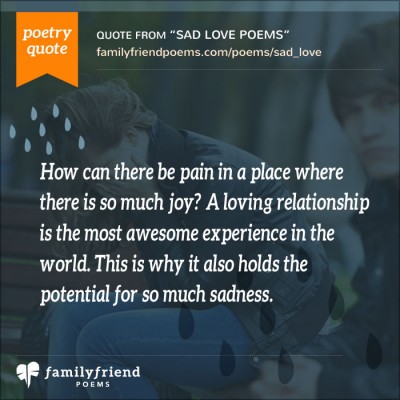 Sad Poems about Love
How can there be pain in a place where there is so much joy? A loving relationship is the most awesome experience in the world. This is why it also holds the potential for so much sadness. There are so many things that can go wrong. We must remember, "Better to have loved and lost than not to have loved at all." If we have this attitude we can hold ourselves together during the hard times and rejoice that we have this awesome gift during the good times.
10 Best Sad Love Poems
Featured Subcategories

The loss of a lover, whether because they have passed on or for any other reason is a heartbreaking experience. Some never fully recover. There might always be a small place in your heart that holds the pain of this experience. This is natural and fine. Even when you find another person to love, it is OK to hold a place for the lover that has passed. You shared something profound together. The previous relationship that you had is not like your new relationship. Every relationship is unique and should be allowed a place in your heart.

When someone you love has left you there is a feeling of missing a part of yourself. Like one who has had a limb removed, you constantly reach for the phantom lover. You may wish for this uncomfortable feeling to leave you so that you can function properly. However, the truth is that the place in your heart that feels a sense of lacking represents the hole where your relationship goes. It is natural to feel that you miss the person the belongs in your life.