Birthday Poems & Wishes For Fathers
Birthday Poems & Wishes For Fathers
Published: January 2019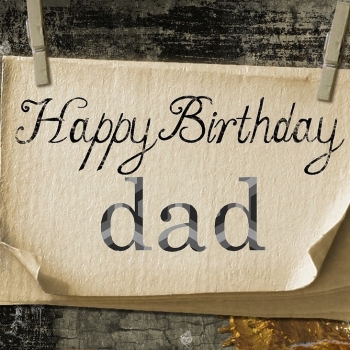 Favorite poems for celebrating a father's birthday. A father does so many things for his children, and his birthday is a great time to tell him how much you love him. Use these poems to express your love to your father and wish him a wonderful year.
2 Birthday Poems For Fathers - Happy Birthday Wishes
Published by Family Friend Poems February 2015 with permission of the Author.

When I was born
I didn't know much
I was introduced to this world
By your kind words and soft touch

Years passed so quickly
And we were already alike
You were my guide and instructor
When learning to ride a bike

Off to kindergarten
And a tear in your eye
You've always been sensitive
When it comes to goodbyes

It's because of the love
That you hold in your heart
You want me to experience life
But don't like to be apart

So off I went
Adventuring alone
Learning new things
Experiencing life on my own

Hasn't always been easy
That I am aware
But one thing's for sure
You are always there

You've helped me see
The woman I can become
You've always had faith in me
Even when I had none

It's that unconditional love
That helped me get through
I wish all little girls' daddies
Could be as great as you

If all girls had guidance
And a dad's shoulder to cry
They'd grow up with confidence
And a willingness to try

So I guess what I'm saying
Is thank you, Dad
I'm not sure words can express
The impact you've had

You are my hero
And an inspiration to all
Happy Birthday, Dad
Or Papa Dukes as I call

Stories 3
Shares 2211
Fav

orited

19
Votes 762
Rating 4.47

Featured Shared Story

Take him out at his favorite place to eat. Buy him his favorite candy that he loves the most.

Published by Family Friend Poems February 2009 with permission of the Author.

Work hard yet be humble,
share all that you have,
may be the most important of many lessons
that I have learned from my dad.

Protect and honor your family,
no matter what the cost.
A battle for your family
is a battle that can't be lost.

Take a stand for things that matter,
and always keep your head held up high.
Embrace those things close to your heart,
and yes, sometimes men do cry.

These lessons in life can not be taught,
they must be observed.
Happy birthday, Dad; you have taught me a lot,
and I love you for what I have learned.

Stories 0
Shares 679
Fav

orited

14
Votes 271
Rating 4.26

Featured Shared Story

No Stories yet, You can be the first!